GSM/GPRS SIM900 MODULES
As it seems that the subject of the communications raises a lot of interest among the readers of this humble page, we have decided to dedicate some sessions to GSM / GPRS modules based on the SIM900 module.
With this peripheral we can use our Arduino as if it was a mobile phone: calls, SMS and connect to Internet.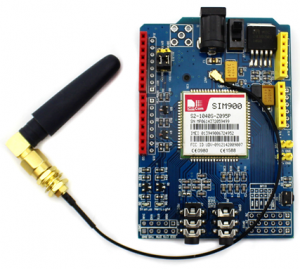 To communicate the Arduino and the GPRS card we will use the AT commands. In this first session we will focus on presenting the module and putting it into operation; and we will make two programs to send calls and SMS  using the above mentioned AT commands.
Here is the link to the new session:
In the following sessions we will try to receive calls and SMS that arrive from a mobile phone, as well as connect to Internet. Surely you will find a lot of situations to integrate this module in your projects.
Greetings from Prometec.